Osama bin Laden's death represents deft management of not only a risky military operation, but a strategic public relations operation amidst an ever-shifting media landscape. While the tactical events that lead to the former Al Qaeda leader's demise have captivated the public, the media strategy deployed by the Obama administration is equally compelling.  The success with which President Obama's administration communicated the event is a reminder of three crucial elements of public relations: control, timing and clarity.
The war against Al Qaeda in the past decade has been largely a public relations battle, as the terrorist group has effectively used the Internet as a primary means for spreading its message and garnering support. But in recent years, both Arab and Western societies have witnessed a dramatic change in the media landscape, making the control of a message, either from the US government or Al Qaeda central, incredibly difficult to maintain.
Today's post-Twitter public is even more demanding of information and images for personal distribution. When President Barack Obama announced bin Laden's death at 11 pm Sunday, rumors of the event were already circulating on Twitter. In fact, between 10:45 and 12:30 am, the site sustained 3,440 tweets per second — a record-high in Twitter's five-year history. Yet, in stark contrast to previous announcements of this caliber, the Obama administration has not released photos or videos of the operation, corpse, or burial of bin Laden. A skillful move by the Obama administration, given that it is nearly impossible to control the evolution of a message once it's been delivered and set free on the social media airwaves.
For President Obama, the timing of the event could not be more ideal.  Last month, Obama received the lowest approval rating of his presidency in regards to his foreign policy management when a CBS/New York Times poll showed that 46 percent of respondents disapproved of his handling of international affairs. Emerging potential Republican candidates for 2012 have criticized Obama, depicting him as an indecisive leader with a tendency for kowtowing to more dominant interests within his own administration and party.
On Sunday evening, however, President Obama spoke to the nation appearing stern, dignified – and solo.  The result? Obama's voice alone transcended the cacophony of tweets, Facebook posts, and television pundits to dominate headlines, positioning him as the indisputable leader of the operation, and in turn, the United States. Even Republican adversaries, like former Vice President Dick Cheney and Donald Trump, have offered congratulations and praise to the administration for the operation.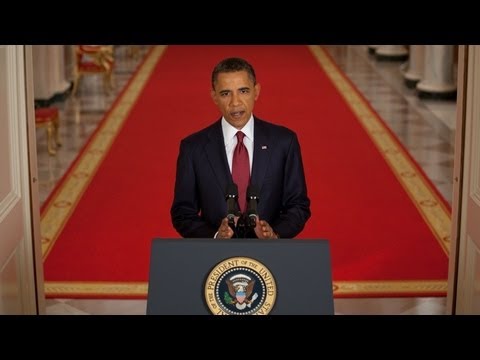 President Obama (and his communications team) has adhered to the old expression in crafting this message: less is more. The absolute control of images and minimal releases from other administration officials has allowed Obama's bare facts surrounding the operation, execution, and immediate aftermath of bin Laden's death to reign supreme across all media outlets.  Thus, the public is left with one image, one voice, and one man to associate with the death of Osama bin Laden – President Obama.
Tags: Barack Obama, Facebook, media landscape, Osama bin Laden, public relations, Twitter